Student Mentees
Connect with a faculty mentor. Discover the benefits of mentorship!
Connect with a faculty mentor and discover the benefits of mentorship!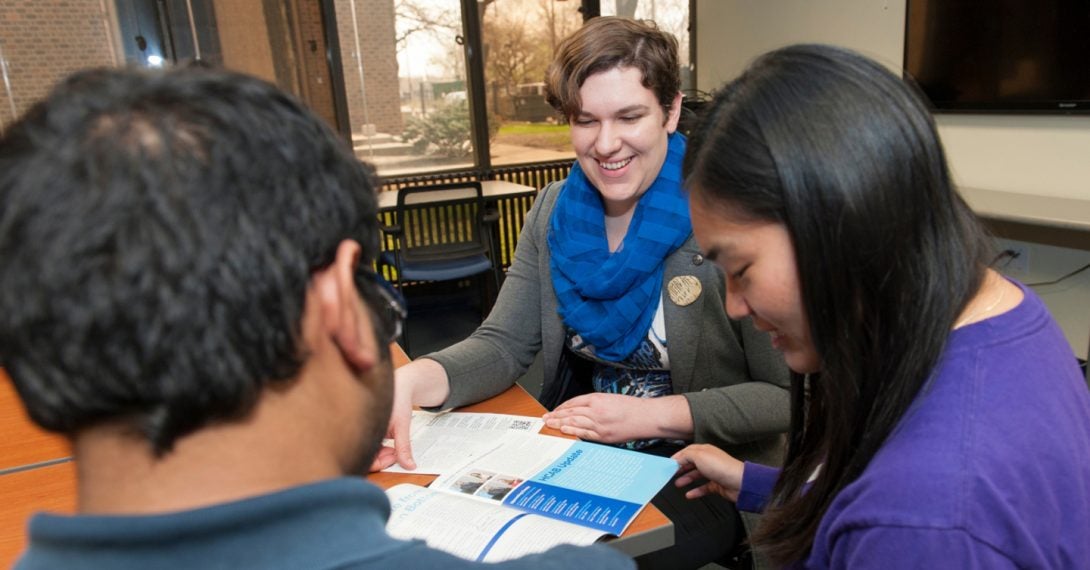 As a college student, choosing to work with a faculty mentor can positively impact your LAS and UIC academic experience.  
Faculty are experts, both in and outside the classroom. They can offer ongoing guidance and advice that will help you feel confident in your academic journey and ensure that your time in LAS is productive and transformative. Don't forget, faculty were once college students, too! They learned how to excel in a college environment and went on to make important contributions to their fields of study. As a mentee, you gain direct access to a faculty mentor's knowledge and insights, and receive support to help you achieve academic, personal, and professional success!
Check out what your peers said about their mentoring experience:
"I discussed with my mentor my apprehensions towards my career choice. He helped me make an educated decision that was best for me. It was extremely helpful, especially coming from someone such as himself."
"Keeping in touch with my mentor kept me motivated throughout the entire semester. Sometimes I give up in the middle of the semester, but because I had to meet with my mentor and give feedback on myself, I held myself to a higher standard than I normally would."
"It was nice to have a guiding hand and knowing that I wasn't the only one going through this."
"When I was clueless about tutoring for non-stem classes, my mentor got back to me with an entire list of resources to get tutoring."
Review the program details and sign up to get connected to a faculty mentor!
Program Details
Support

When students join the mentorship program, they gain support in the following areas:

Major and career exploration
Academic success strategies
Knowledge of resources and services
Guidance and advice on personal matters
Internships and professional pathways
Research opportunities

structure

In a group with 3-5 peers, work with a faculty mentor who is in your academic discipline (Natural Science, Social Science, Humanities) for one semester.
Connect virtually with your faculty mentor both one-on-one and as a group at different points in the semester.
Faculty mentors will facilitate conversations on essential topics related to the college experience, share your academic journey, and offer subject area insights.
Exclusive access to guest speakers and newsletters to supplement your mentorship experience.

eligibility

To enroll in the program, students must:

Identify as first-gen (neither parent nor guardian earned a degree from a 4-year college in the US).
Be a full-time student in the LAS.
Be able to commit to one full semester.
Have completed less than 60 credit hours or less than 4 semesters at UIC. Transfer students welcome!